R.Madillo Packaging is committed to providing the most eco-friendly packaging that is possible, giving you the option of using products that are bio-degradable and/or manufactured from recycled material, or manufactured from a high percentage of recycled material.
Eco-friendly products are currently in high demand. Consumers are very much aware of the need for products which can be reduced, re-used or recycled. This even goes as far as the packaging materials in which the product arrives. Many traditional packaging materials are not eco-friendly, such as polystyrene loosefill or plastic blister packs, but many of these products have alternatives which would achieve the same results, whilst keeping costs to a minimum. As suppliers, more attention needs to be paid to sourcing packaging which is much more 'ecologically sound'.

Corrugated cardboard is used as one of the most fundamental items in packaging, the humble cardboard box. Used extensively throughout the world, cardboard boxes or cartons are the backbone of most transit packaging. Corrugated cardboard may at first seem like a very bad resource for use in eco-friendly packaging materials, (destruction of forests, destroying eco-systems) but this is not strictly true, as many of the paper based materials in use are cut from sustainable woodlands. Aside from this, there are other benefits to using corrugated cardboard packaging.

All cardboard boxes can be reused & recycled. This means that less resources are used in the future, as recycled corrugated cardboard can be used in making further cardboard boxes, and re-use of boxes ensures maximum life-span of the original materials. Corrugated cardboard boxes are not usually 100% recycled, (70-90% on average)
Boxes are not the only product made from corrugated cardboard. Single-face corrugated paper rolls, corrugated mailing wraps & corrugated sheet-board made from 100% recycled materials can all be purchased from Rmadillo Packaging.

The incentive to use recycled corrugated cardboard packaging materials is due to a number of factors. These include the reduced cost of packaging materials, (as recycled materials generally cost less than virgin materials), and the opening up of further demographic markets, as many consumers will base their purchasing habits on how eco-friendly a product appears to be, including the packaging materials products are despatched in.

It is no longer just good enough to provide a quality product at an affordable price. It must be considered just how eco-friendly your product is, including any packaging materials which are involved. If this is over-looked, then be prepared to pay in lost sales & lost customers.
Rmadillo Packaging is also committed to reducing our "carbon footprint" and we continually strive to minimise the impact of our products on the environment. We feel that not only is this the right thing to do but by saving us money we can pass the savings on to you, the customer.
We also recycle all our waste using a local refuse collection company that specialises in recycling. We also use eco-friendly lighting in our offices and warehouse reducing both our costs and our impact on the environment.
Boxes
RMadillo Boxes are manufactured using 90%+ recycled material (only the outer of the box is not), they are fully bio-degradable and able to be recycled.
Padded Envelopes (Jiffy Bags)
Our Bubble Padded Envelopes by Jiffy are manufactured partially from recycled material and the kraft paper outer is sourced from sustainable forests. Bubble padded envelopes are recyclable (though you should ideally separate the inner bubble bag from the outer).
Jiffy however do do a range of Padded Bags (their original Jiffy Bag) Find them under Jiffy Padded bags in our list. These are filled with 100% recycled paper padding and the kraft paper outer is sourced from sustainable forests. They are therefore fully recyclable without the need to detach the inner lining.
Jiffy also package all their envelopes in boxes that are 100% recycled material and fully recyclable
VOID FILL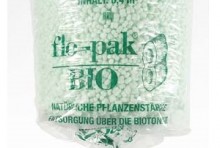 Most white polystyrene void fill is not Bio-Degradeable! At Rmadillo we only sell Environmentally Sound loosefill
FLO-PAK® Green Loosefill
FLO-PAK Green loosefill is made of 100% oxo-biodegradeable polystyrene. Its lightweight figure-eight shapes flow for perfect protection and quick packing. FLO-PAK loosefill is cost effective, doesn't chip or break so shipped items arrive safely. All FLO-PAK loosefill is given an anti-static bath so it does not cling to clothes or products.
FLO-PAK BIO 8®
Made of corn or wheat starch in a manner similar to breakfast cereal, BIO 8 starch loosefill provides excellent cushioning protection. Designed to decompose in the presence of air, light and water, BIO 8 loosefill is the "natural" choice.
We will be updating this page and adding further information about environmentally friendly products as they become available and providing updated information about the ability to recycle our products.